The City is in the palm of your hands
Smarticket.it offers a simple and secure solution to pay parking on the blue lines via smartphone, directly with your payment cards.

Smarticket.it allows you to have a direct way to pay parking on the blue lines from your banking app, in three simple steps:
Parking Activation
Select the method that you prefer, credit card, paypal etc. The Parking will be charged once you have finished. There are no additional costs.
City and Area Code selection
Select the city and parking area, using the "City" and "Area Code" fields or use the interactive map and once your position is identified, the fields will be automatically Filled.
Plate and parking time
Enter the plate number of the vehicle that you want to park to have it activated. Indicate the time period you will park: you can extend it or terminate it in advance at any time without any additional costs. You can manage your parking also with an Apple Watch.
Car Parking Subscription
You can purchase your car parking subscription with Smarticket.it for Rome, Bologna and Turin. Discover more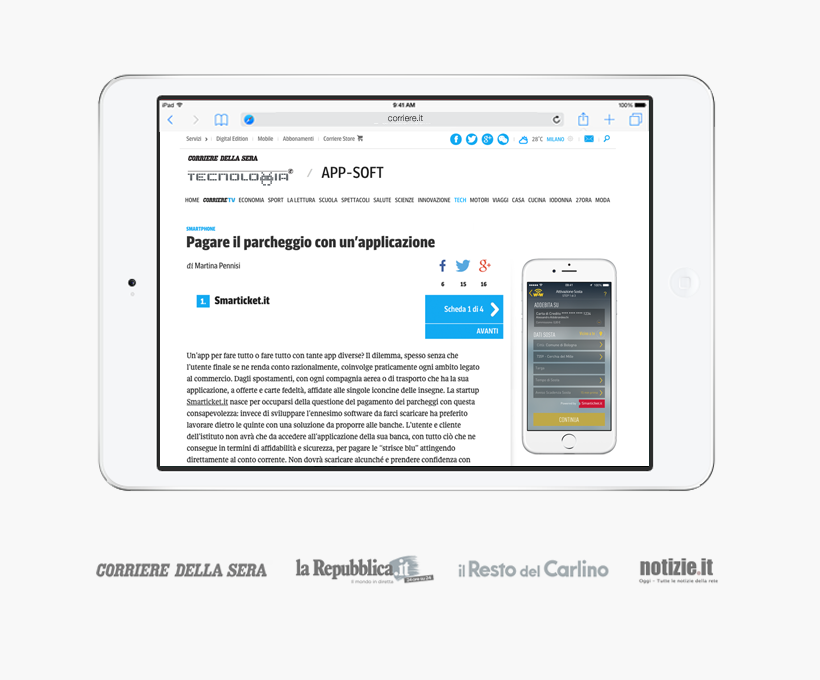 The advantages of Smarticket.it
Having your payment methods protected within an app with the bank security.

You can use one app, the mobile wallet for all mobile payments, without having to enter your data into other applications and remembering new authentication codes.

The convenience of not having to load credit on a mobile wallet, since the charge is made directly with your bank payment methods